I was reading a post from telecom engineer Eva Smith earlier this week. In it she mentioned that her mother made cakes at home to make extra money for the family. Mi mami also made birthday, quinceañera and even wedding cakes (!!) so I was smiling and recalling.
Suddenly, a memory from 4th grade popped into my head. My mother was sitting at our
kitchen table which was configured more like a factory station during the day while we were at school. She was wrapping fishing rods, which meant attaching the guides (the circles that hold fishing line for you non-fisherman –see photo at right) by applying colorful thread to hold them and then lacquer to shine them up. My sister and I, the two oldest children of four kids at the time, learned to use the pedal-operated thread-wrapping machine (essentially a giant sewing machine but the thread wraps around the rod instead of a needle into fabric) and helped my mom continue production as she made dinner. I didn't know it then, but my mother was teaching me how to bring in revenue for the family while being home with her children.
From that production experience in my kitchen, I got the idea to apply the pretty colorful thread to my plain yellow #2 lead pencils. If you can't quite imagine that, I'm realizing as I write this that those pencils I decorated looked a lot like the military ribbons on my Air Force uniform as seen here.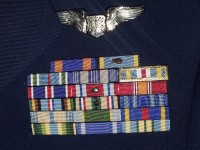 As soon as I took my jazzed-up pencils out of my school bag, immediately I heard, "Wow! Where did you get those cool pencils?" Yep, you guessed it. At the age of nine I replied with, "My mom has special equipment at home to do this.  I can wrap pencils for you for only $0.25 each. How many would you like me to decorate?"
As word spread of this unique pencil customization service throughout the school, I begin taking orders in my school notebook—number of pencils they provided, what color combinations they wanted, deposit collected, balance due, etc –all while applying my math skills. I also remember sitting down with my dad and creating a pricing table, offering volume discounts for wrapping pencils and special pricing for decorating entire packages of pencils. We even added a service where we would provide the pencils instead of my classmates having to provide them to me. I remember one Sunday while watching a Denver Bronco game on TV that I decided to start wrapping pencils in orange and blue sometime during halftime; I sold all 24 of those babies on Monday!
I learned many important business principles before school, after school, during recess and at lunch time. You can read the rest of the story here for those lessons, to learn how that first, fast-paced business ended, how that experience can inform your own children with life skills and more.
But today, I'm reflecting. After nearly a decade of military service and a decade of corporate marketing and always working globally, I want exactly what my mother wanted: to contribute to the family revenue stream, to teach my children life-long business skills and to be there to pick them up after school and help with homework as needed. It's a heck of a thing to admit to myself because for so many years, I have believed I was trying my best to diverge away from how Mami did things. Suddenly, the wisdom of her choices is obvious to me. It's humbling and gratifying to connect these dots…a lovely benefit of the mid-forties experience!
Although I'm going about it very differently in starting my own publishing and marketing company and creating unique and differentiated literature to put into a national and global distribution, I am realizing that I've always been prepared for this. And, like my mother, I love to involve my children in the family business. From inspiring a children's book series to assisting in a piece of the order fulfillment process, all three of my kids are learning about creating value and serving customers at a young age. Instead of counting fishing hooks as I did, they count books that came out of Mommy's brain (and imagine themselves as authors too.) Instead of packaging hooks in bags with a fishing equipment brand, they package books in boxes with OUR publishing firm's brand. And instead of pencil design, they're learning 21st century skills like blog, app and web design. And the all-important skills of communicating the unique value and asking for the business…if you've seen them with me at events, it's obvious they've got that down pat!
Thank you Mami, for the choices you made to do it differently, for having business aspirations (fishing poles, fishing hooks, Tupperware, Princess House, etc), to contribute substantially monetarily in partnership with Papi to bring in the revenue our family needed, for putting your children first and involving them in your business endeavors. Looks like I'm imitating you after all and I know I am blessed for it.
I'm heading down to Los Angeles tomorrow and on Friday when I gather with 150 Latinas in leadership at Google headquarters for the ELLA Leadership Institute LATINAS THINK BIG™ L.A. stop, all the ambitious-in-their-own-ways mamis who raised us will be there with us too. With the foundations of strength, resilience, creativity and constant teaching and giving upon which we were raised, we are launching ourselves into the future, thinking big and doing bigger, together as I was taught. I can't wait to meet the members I've been so engaged with online for over a year now, and to support the ELLA Institute initiatives as a Twitter Ambassador.
ELLA Leadership Institute was created by Dr. Angelica Perez-Litwin and her team to
organize ambitious, professional, entrepreneurial and social-impact-minded Latinas determined to make a difference in our communities and across American society. Peer mentoring, resource sharing, support during product launches, discussions of the role of Hispanic and mainstream media in the 21st century and other tough topics are all part of the daily intellectual exchange among members. ELLA Leadership Institute recently launched the LATINAS THINK BIG™ national tour to showcase Latinas who are making a difference. The second stop of the tour is Friday, October 11th at Google headquarters in Venice, California.
I will enjoy the company of fascinating women, including professors, business owners, executives, researchers and non-profit leaders gathering from around the nation to recognize and celebrate innovative, influential Latinas. I'm looking forward to hearing the speakers and discussing innovation in all its forms.
Are you crafting a business plan? Do you need to see live examples of successful Latinas in entrepreneurship to take the leap? If so, the Friday evening LATINAS THINK BIG event is the ticket! The onsite event at Google HQ in Venice, CA has been sold out for weeks.  So please join the conversation online via Google hangouts and Twitter (links below) and be a part of the virtual part of the event.
The Los Angeles tour will be historical, one of the very first times a Fortune 100 corporation has hosted a Latina Leadership event at their headquarters, and one that will be live streamed to reach women and men wherever they may be.
We ten TWITTER AMBASSADORS will connect with you via Twitter, tweeting live highlights with the hashtag #LATINASTHINKBIG, expressing thoughts on events as they occur. Our Twitter handles are below; feel free to follow us in advance of the event.
We look forward to having you join us. This one will be one for the business history books!
LATINAS THINK BIG– LOS ANGELES
Register for your virtual pass HERE: 
https://latinasthinkbig-la.eventbrite.com/
EVENT HASHTAG: 
#LATINASTHINKBIG
EVENT AGENDA
4:00PM – 5:00PM New York Life Career Consulting Hour
5:00PM – 5:50PM Registration, Hors d'Oeuvres, Mingle & Live Band Music
6:00PM – 6:20PM Welcome Remarks
6:20PM – 7:40PM LATINAS THINK BIG™ Presentations
7:40PM – 8:00PM Monica Gil Interview
8:00PM – 8:25PM Awards Ceremony
8:25PM – 8:30PM Closing Remarks
8:30PM – 9:30PM Mingling with Presenters and Honorees
TWITTER AMBASSADORS
Jacky Diaz | @amigapreneur
Monique Frausto | @BLOGSbyLATINAS
Deborah Deras | @DeborahDeras
Eva Smith | @Eva_Smith
Gina Linn Espinoza | @ginalinn
Graciela Tiscareno-Sato | @GraceTiscareno
Hilda Ramirez | @HildaRamirez1
LaLa Castro | @latinageeks
Nelly Cardinale | @nycrican2
Stephanie Bravo | @stephanierbravo