My oldest child had surgery earlier this month, which forced me to completely slow down and stay home in a caregiver role. As a business owner, in previous years this necessary medical activity would surely have led to thoughts of lost productivity and anxiety. But this is 2013- the year I was violently mugged and injured and the year my two other children had brushes with death.
So to satisfy my need to write one more article before the end of the year, I have chosen to only write about one thing: GRATITUDE.
I have tremendous gratitude to the lady who was there to call 911 as I got hit from behind simultaneously by two violent ghosts I never saw. Without her assistance and description of the attackers, it would have been a very empty police report. The evil pair apparently had watched me before I left the coffee shop before dark because they knew where I had secured my smartphone; I lost my laptop, phone and sense of security that night, about five feet away from my car. I'm grateful too that they wanted my tech and not my life.
I am grateful for Linda, our former au pair from Germany who took care of me when we arrived in her town for our long-anticipated first European vacation with our children; my knee injury from the April mugging lead to a subsequent worse injury on a Belgian train within an hour of our arrival. That was followed by crutches, an orthopedic appointment in a German hospital, a wheelchair, prescription drugs. Without Linda's help there and elsewhere, our family vacation would have been a complete disaster. Thank you Linda for your love, assistance and extraordinary patience with your comadre!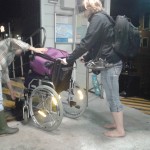 I'm extraordinarily grateful to our former au pairs in Germany and their families for their tremendous hospitality and for assistance rendered to the injured "host mom." Thank you Gaby and Rolfy for hosting our family in your home in Germany and for memories that will truly last a lifetime! Thank you Mandy for 24 phenomenal hours in Braunschweig. Thank you Nansin and your family for meals in Bebra that we'll never, ever forget (or work off!) Thank you Gunther and Rolfy for pushing me up and down hills along the Rhine River in Cologne and giving my husband a break.
I am indescribably grateful to my husband Genro who spent our vacation that wasn't, pushing me in a wheelchair in four European countries, in train stations, airports and cobblestone streets. Imagine Venice, Italy, the city of canals and hundreds of stepped bridges. Now imagine Venice in a wheelchair – nightmare! My husband's physical and character strength was my crutch when it all got to be too much for me one particularly difficult day in that city.
I am grateful to the driver of the SUV who somehow managed to avoid hitting my nine year-old daughter on the 4th of July as she decided to sprint across the street back to me when all the cars were stopped watching fireworks…or so she assumed. If you've ever watched your child miss certain death by about three inches as you scream her name, you know exactly how traumatized I still am by that moment, and how truly grateful I am to hug her tightly every day and night. If you never have endured that horror, count yourself double lucky.
With the backdrop of all that going on in the first half of the year, I am deeply, deeply grateful to the entire team of creative women who helped me birth my first bilingual children's book, Good Night Captain Mama, on our planned launch date of July 4th weekend.
We somehow got there despite the mugging, the broken femur and the wrecked car and other unpleasant things that happened to several of us on the team. Small business owners are ferociously tenacious creatures, aren't we? I'm proud to call Ruth and Suzi friends and express gratitude for pushing with me all the way to the end. Linda, Anabel, Rosi and Ivonne – thank you for all you did to keep the project on track and excellent.
I am forever grateful to my friend Stacy who was watching my kids when I was at a physical therapy appointment to heal my injured knee. It was that hour of that summer day my son choked on a Lego while using his teeth to pull two pieces apart. Thank you Stacy for the quick thinking and knowing how to do the Heimlich maneuver! How do you express gratitude to the friend who saved your son? I'm trying….
I'm grateful to Dr. Angelica Perez, founder of the ELLA Leadership Institute and the ground-breaking Latinas Think Big event that took place at Google's L.A. office in October. I met many of the women from the Latina Leadership Network Facebook group, most notably my host in L.A. Gina Espinoza and Dr. Nelly Cardinale who traveled from Miami.
It was the first time that a Fortune 100 corporation had hosted a Latina leadership event and it foreshadows what's to come. Thank you ladies. Thank you Angelica, a woman I know will be my life-long amiga.
I am grateful for artist America (of Global America) who arranged for me to attend the California Hispanic Chamber of Commerce convention as an exhibitor. Relationships started that day led to all kinds of wonderful activities in the latter half of 2013. I met John Estrada and Duane Goff of the storied American GI Forum. One Friday night, a Facebook message from John "Can you be in a parade in San Jose on Monday?" led to a conversation with his sister Marie of the AGIF and a dinner in San Jose where I met a kindred spirit named Gloria sitting with Duane. That chat with Marie also led to one of the best memories for my family and I for 2013.
I am deeply grateful to the AGIF for honoring me in the San Jose Veterans Day Parade and to Tony of Blvd Bombs, owner of the gorgeous, red 1953 Bel-Air convertible lowrider, who drove my children and I in the parade. We will always remember the sign on the car introducing us to the crowd as "Captain Graciela Tiscareno-Sato, Captain, Iraq, U.S. Air Force" as we shared our ride with former Navy SEAL Leonard Sanchez and my hubby marched ahead of us as a part of the color guard.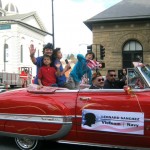 What a happy, joyous day after all the trauma we had survived the previous months!
Thank you America, John, Duane, Marie, Gloria and all the Latino military veterans my son met at the AGIF dinner that night. You all made quite an impression on all of us! I was truly honored to meet each of you and look forward to 2014 activities.
I'm grateful to all of the reporters, editors, journalists and producers who responded to our bilingual media blitz for Veterans Day to promote our children's book nationally, with the strong message that "Mommies and Latinas are veterans too!" Judging by the media response, the country is ready to see more positive images of women and Latinos in military uniforms in service to this nation we love dearly. Thank you National Public Radio, CNN, Univision, Voz de America and the many others who amplified this message this fall.
I'm grateful to people like Irene Vilar, who have huge visions to do important things in the world and have the ability to make those things actually happen.
I'm grateful for her vision to create the first annual Americas Latino Festival in Colorado and her ability to attract a global, environmentally-committed creative community of speakers, authors, artists, entrepreneurs, and for including me in this labor of love. Those four days in the state where I grew up, getting to spend more than one minute chatting with my fellow
author Rick Najera, presenting with Saachi & Saachi S marketing guru Nayelli Gonzalez, visiting my sister and returning to my home town of Evans and high school in Greeley – priceless.
I am extraordinarily grateful to my brother Ben who arrived ahead of my daughter's surgery to help with business operations, housework, homework and entertaining my children as only an uncle can do. What a blessing! Thank you Ben.
Lastly, I am grateful that my parents are healthy, happy and were able to drive to California to be with us for the surgery day and recovery that followed during the holidays.
They spent the entire day at the hospital with my husband so I could keep the other two children on their school routine and keep their experience as normal as possible. How do you express gratitude for parents who will be there for you under these circumstances? All I can do is try. Gracias Mami y Papi por estar con nosotros en este tiempo, como siempre han estado. And gracias too Mami, for making the bunelos with me on Christmas Eve!
I am truly blessed to have spent this holiday season with my parents and brother in our home, helping me nurse our daughter through her post-op recovery, for her healthy attitude through it all and for all the amazing adventures we have shared at area Mission lands, Las Posadas on John Muir's property, the ocean, the dinner at the marina…..I'm truly, truly grateful to have survived this year, surrounded always in love.